Congrats on signing up on Stashally and welcome to the family! This is a quick guide to show you how to get the most of your brand page.
1) Your Dashboard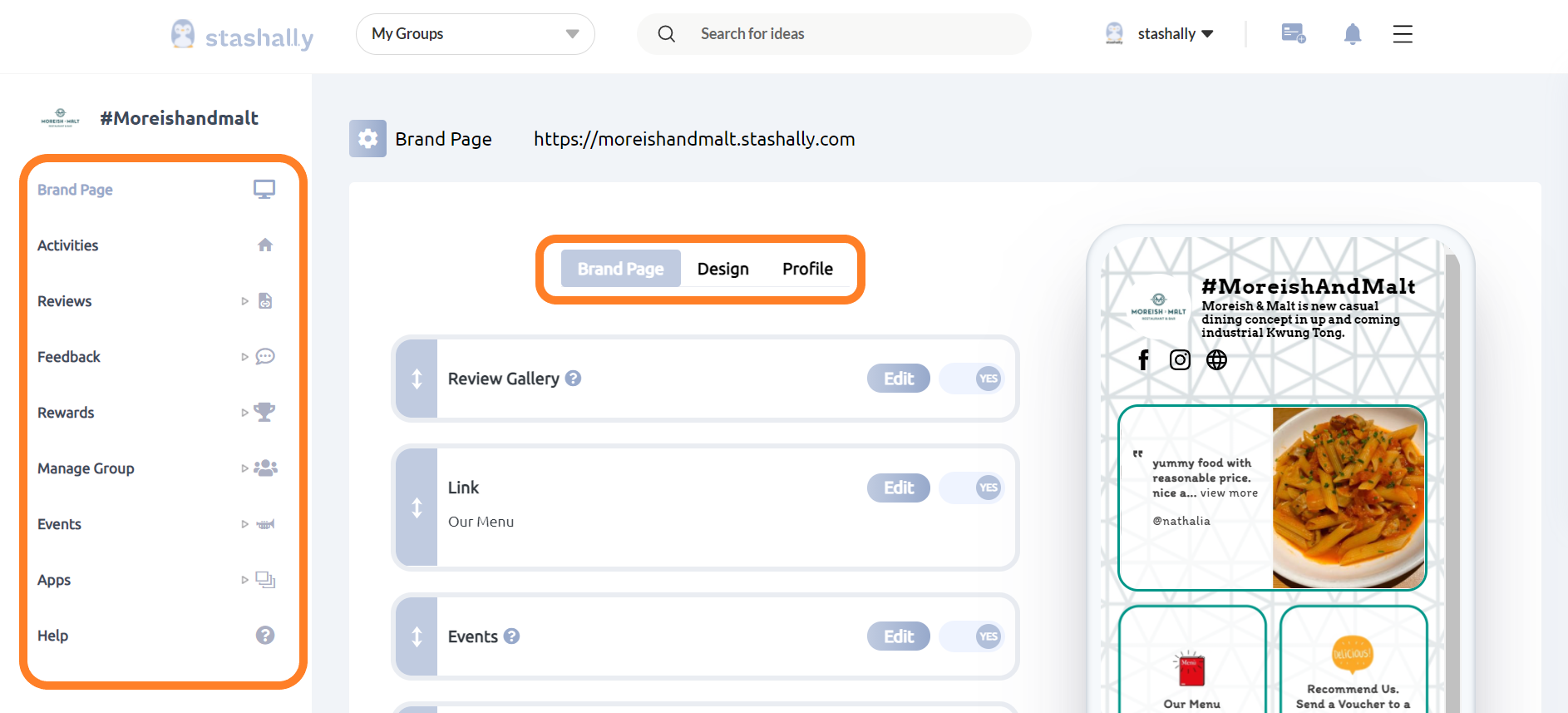 Page options
Brand Page Tab - Where all your links are added and tiles created. Drag and drop to arrange the order. Clicking edit will allow you to adjust the properties of each tile.


Design Tab - Upload your own background, change box colors and fonts, and more! We love to create contrast with different 'on hover' options.


Profile Tab - Add description, choose profile placement, and link all your socials here. Socials linked here will show up as mini icons at the top.
General
options


Activities - An overview of your page and community.


Reviews - Manage your reviews collected using Stashally here. Approve or reject user submissions (user content for all new brand pages are set to auto-approval). You can also import posts from Instagram, Google or Facebook here.


Feedback - View your latest feedback (the feedback tile is auto generated for new pages by default)


Manage Group - Add or remove posts, give awards and more.


Events - For configuring reward and referral campaigns.


Apps - Integrate instagram, google, and facebook. Importing posts can also be done from the Review Gallery tile.


Help - View our knowledge base of how-to guides or connect with the team.



2) Adding Tiles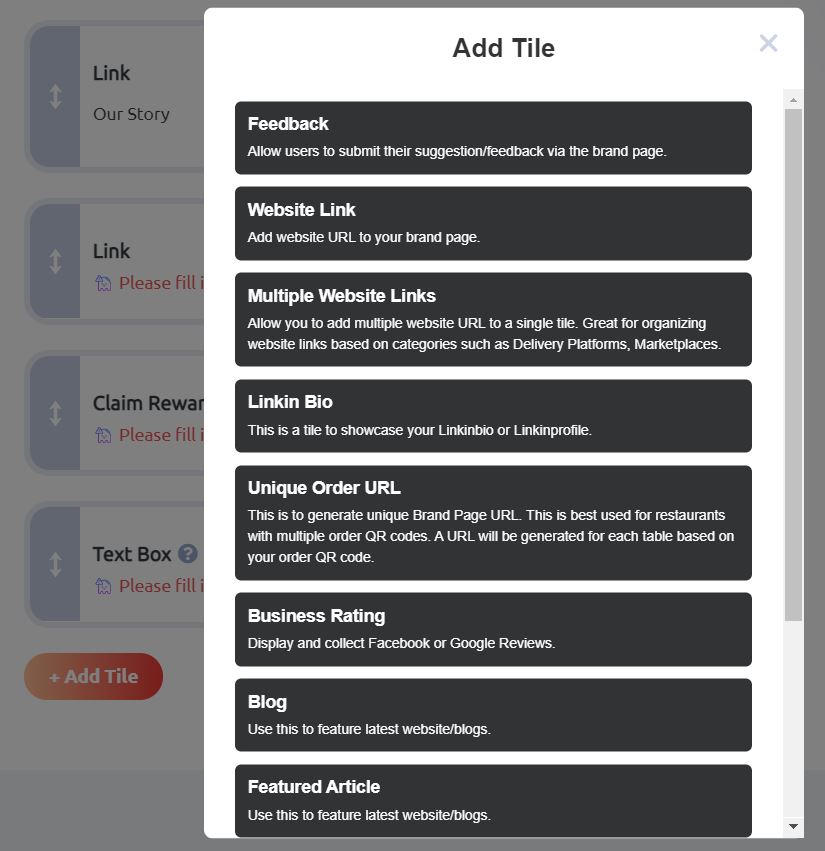 At the bottom right of the brand page tab you'll find +Add Tile. Clicking it will bring up a list of available tiles to use. We have tons of useful tiles to customize your page.

We highly recommend for every active action you want visitors to take, it should be made into a tile such as,

- Visit our store
- Browse our products
- Order now
- DM / Contact Us
- Our latest promotions
- Blog posts
- Follow us on Instagram
- Share your experience
- Leave feedback and suggestions
- Recommend us to a friend
And more up to you!

Giving customers a table of options they can easily click and choose can boost your page engagement by up to 500%.

Hot tip -Visitors love seeing the experiences of others all in one place.
Import your Instagram Posts, Facebook, and Google Reviews to your Review Gallery - Need help? See our guide here

Hot tip - If you have multiple links of the same type, try out our multi-link tile!


3) Icons, Stickers, And Animations!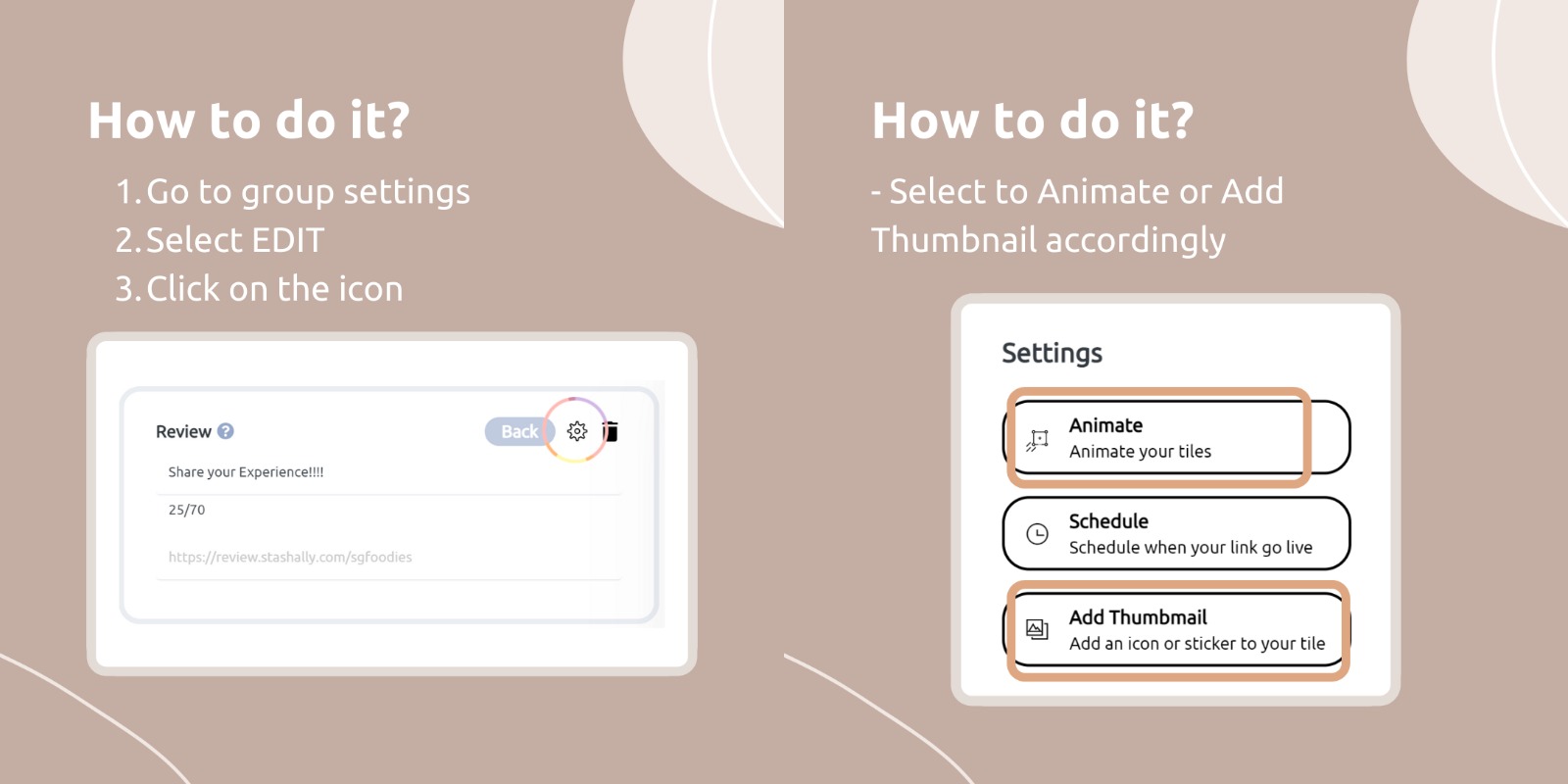 Check out the gallery for more inspiration to see how other brands are designing their brand pages to maximize engagement.

Alright ready to rock? Sign up to claim your page or click here to head to your dashboard.


4) Shop and Payments
You can now add products and services to sell via your Stashally page!
Click here to learn about setting up a store with products.
Or here to learn about selling services, taking payments, and donations.


We are constantly churning out new features and UX improvements every week to make Stashally even easier to use. Follow us on Instagram for the latest!

If you ever need help setting up your Stashally page, drop us an email, or DM us directly on Instagram.
We're grateful for your support and can't wait to see your awesome page design!